sponsored by
| | | |
| --- | --- | --- |
| | | OSdata.com |
BSDi
BSDi Internet Super Server Version 4.0
also known as BSD/OS
summary
BSDi Internet Super Server (also known as BSD/OS) is a commercial BSD UNIX† for Pentiums and other processors.
OSdata.com is used in more than 300 colleges and universities around the world
Find out how to get similar high web traffic and search engine placement.
Kind of OS: proprietary BSD (Berkeley Software Distribution) UNIX†w40 owned by Wind Riverw71
Current Version: 4.0w15
Cost: $995 for base product or 16 user licensew40
Hardware Supported: Intel Pentium (Pentium, Pentium Pro, and Pentium II)w40, 80486w40, 80386w40, Sun SPARC and Ultra-SPARCw40, Motorola PowerPCw40 (see "BSD/OS 4.0 SMP Motherboard Compatibility" at http://www.BSDI.COM/products/internet/mpmb)
Kernel: BSDw40
File Systems Supported: BSDi Fast File Systemw39, NFSw39, SMB (through SAMBA)
Text Command Shell: UNIX shells
User Interface (graphic): Motif (through third party supplier Xi Graphics)w40
Other:
"Why does Wind River need both BSD/OS and FreeBSD? Wind River's customers demand a fully supported commercial system with carefully controlled product direction, quality, and support. BSD/OS provides these benefits and Wind River will therefore continue to invest in the direct development of BSD/OS and its successors. These will provide the primary revenue engine for the BSD technology.

"Wind River also recognizes the enormous leverage that open source projects can provide. When encouraged to prosper, open source can produce a wide variety of useful, stable technology and ideas. FreeBSD offers this opportunity for Wind River to cultivate. BSD/OS and other Wind River products will selectively incorporate technology or ideas surfaced by FreeBSD, including applications and drivers, and BSD/OS will maintain a high degree of compatibility with FreeBSD to optimize this synergy. To encourage the growth of FreeBSD, Wind River will also selectively donate technologies to the open source community. This plan provides Wind River customers with the best of both open source and commercial systems." —Wind River, "bsdi_faq", May 2001w71
"How do FreeBSD and BSD/OS fit into Wind River's product strategy? As embedded applications become more and more connected, it is imperative that they have the ability to interoperate with the mission-critical applications running on the Internet.

"The agreement to acquire BSDi software gives Wind River customers the assurance that their connected smart devices will be highly compatible with UNIX applications, which are the most widely deployed applications powering the Internet today.

"The addition of a UNIX-based OS is consistent with Wind River's strategy to be uniquely positioned to provide end-to-end solutions that enable customers to develop connected smart devices with market efficiencies in a challenging and ever-expanding market (see diagram below)." —Wind River, "bsdi_faq", May 2001w71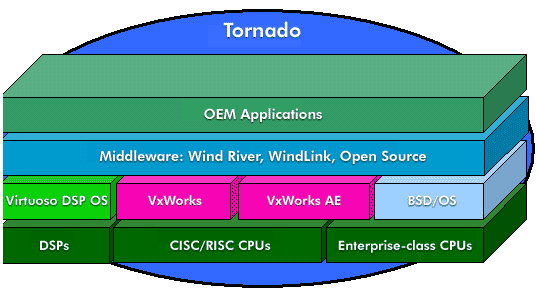 references
OSdata.com is used in more than 300 colleges and universities around the world
---
A web site on dozens of operating systems simply can't be maintained by one person. This is a cooperative effort. If you spot an error in fact, grammar, syntax, or spelling, or a broken link, or have additional information, commentary, or constructive criticism, please e-mail Milo. If you have any extra copies of docs, manuals, or other materials that can assist in accuracy and completeness, please send them to Milo, PO Box 1361, Tustin, CA, USA, 92781.
If you have an extra or unwanted copy of any official manuals or documentation on this operating system, please send them to: Milo, POB 1361, Tustin, CA 92781, USA. I have the following items: NONE.
Note: I am looking for a fan of BSDi who has the time to check this web site for completeness and accuracy regarding BSDi. Just check through the site about once a week or so and report back with any information (including the URL of the web page you are reporting).
Click here for our privacy policy.
---
Click here to skip over the summaries of individual operating systems.
---
peer level
---

This web site handcrafted on Macintosh

computers using Tom Bender's Tex-Edit Plus

and served using FreeBSD

.

---
†UNIX used as a generic term unless specifically used as a trademark (such as in the phrase "UNIX certified"). UNIX is a registered trademark in the United States and other countries, licensed exclusively through X/Open Company Ltd.
Names and logos of various OSs are trademarks of their respective owners.
Copyright © 1998, 1999, 2000, 2001, 2002 Milo
Last Updated: February 17, 2002
Created: June 22, 1998
Click here to skip over the summaries of individual operating systems.