sponsored by
| | | |
| --- | --- | --- |
| | | OSdata.com |
OSdata.com is used in more than 300 colleges and universities around the world
Find out how to get similar high web traffic and search engine placement.
contact information
real mail
Milo, PO Box 1361, Tustin, Calif, 92781, USA.
e-mail
Contact
Milo
Milo, PO Box 5237, Balboa Island, California, 92662, USA.
about Milo
I am a computer programmer and musician.
If you need someone who fills out business paperwork, I am completely inappropriate. If you need a computer programmer, I am skilled at that.
My greatest skill is hand crafted assembly language. I understand computers at the place where object code meets the processor.
Assembly languages (small selection): Acorn ARM, DEC VAX, IBM 360/370, Intel 8080/8085, Motorola 680x0, Motorola/IBM PPC, National 32000, Sun SPARC/UltraSPARC, Zilog Z80.
High Level Languages (not all recent): Ada, Algol, APL, bash, BASIC, Bliss, C (worked on compiler), C++, COBOL, Forth (wrote interpreter), FORTRAN, Java, JavaScript, JOVIAL, LISP, Logo, Pascal, Perl, PHP, PL/I, PostScript, Python, Ruby, Sisal, SmallTalk (worked on compiler). Also web technologies such as HTML, CSS, DOM, AJAX, and JavaScript. And in the opposite direction, micro-programming (programming the microcode inside a processor).
Creative: 2D and 3D computer animation, acrylic painting, audio mixing, bass, blogging, camera operation, charcoal drawing, chemical photography, cinematography, colored pencil, composing, copy editing, digital photography, drawing, directing (film, video), editing (film), editing (text), editing (video), flat bed editing (motion picture film), floor director, guitar, hand drums, India ink drawing, keyboards, layout and design, lighting (video, film, still photography), mixing music, negative cutting, paper making, piano, percussion, PrismaColor, proofreading, rope work (making rope, splices, and knots), scratch animation, social media, traditional cel animation, trumpet, Twittering, video games, videography, video switching, writing.
See computer programming text book.
I invented Quick Pick. In the first two weeks after its introductiuon every state and national lottery in the world was using it. In a year the numbers of persons gambling doubled and the widespread public play of government lotteries led to the current positive view of gambling and the success of televised poker.
I created the Electric Emperor CD-ROM (educational software for the general public). I was the only programmer. My software was much more advanced than Macromedia's Director (the leader at the time, which had a work staff of hundreds), with far more active elements than MacroMedia could handle, including experimental animation techniques. I created a brief full screen animation for the opening at a time when Apple's QuickTime was still postage stamp sized. I created glowing buttons years before Apple famously introduced them in Mac OS X (and my version included the glow on the surrounding metal, an animation detail Apple still hasn't matched).
I have worked on consumer software, operating systems, compilers, credit union software (and discovered errors in the Treasury Department's software), satellite software, numeric processing software, scientific software, and more.
other web sites
Other websites made or maintained by Milo:
This Side of Sanity (rock band and free music video service)
DietBear (free open source social media food journal)
---
geek humor
"Unsolicited commercial electronic mail sent to this address will be proofread at a cost of $200/hour (one half-hour minimum)." —Tim Pierce
---
A web site on dozens of operating systems simply can't be maintained by one person. This is a cooperative effort. If you spot an error in fact, grammar, syntax, or spelling, or a broken link, or have additional information, commentary, or constructive criticism, please e-mail me. If you have any extra copies of docs, manuals, or other materials that can assist in accuracy and completeness, please send them to Milo, PO Box 1361, Tustin, CA, USA, 92781.
Click here for our privacy policy.
---
---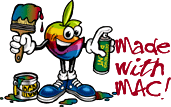 This web site handcrafted on Macintosh

computers using Tom Bender's Tex-Edit Plus

and served using FreeBSD

.

---
Names and logos of various OSs are trademarks of their respective owners.
Copyright © 1998, 2000, 2001, 2004, 2013 Milo
Last Updated: November 28, 2013
Created: September 12, 1998