sponsored by
| | | |
| --- | --- | --- |
| | | OSdata.com |
Syllable
summary
"Syllable is a free software hobby operating system for Intel x86 Pentium and compatible processors. Its purpose is to create an easy-to-use desktop operating-system for the home and small office user. It was forked from the AtheOS operating system in July 2002." —Wikipediaw92
OSdata.com is used in more than 300 colleges and universities around the world
Find out how to get similar high web traffic and search engine placement.
Release Date: July 2002
Cost: free
Hardware Supported: Intel x86 Pentium
Peripherals: "Syllable now supports most popular network cards, most video cards including all of NVidia NV chip based cards, major sound cards, ATA chipsets, and limited set of USB devices. We are looking for volunteers on PCMCIA subsystem and a driver set." —Syllable updatee133
Graphics Engine: "Syllable has its own streamlined, high performance GUI written in C++ with high level of abstraction. Syllable is free from X Windowing System, so toolkits were not and never will be an issue. Work on SDL port is in progress." —Syllable updatee133
Text Command Shell: UNIX shells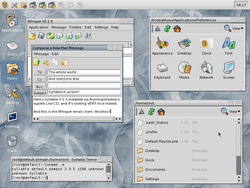 click on the preview image for a larger version
Other:
references
OSdata.com is used in more than 300 colleges and universities around the world
---
A web site on dozens of operating systems simply can't be maintained by one person. This is a cooperative effort. If you spot an error in fact, grammar, syntax, or spelling, or a broken link, or have additional information, commentary, or constructive criticism, please e-mail Milo. If you have any extra copies of docs, manuals, or other materials that can assist in accuracy and completeness, please send them to Milo, PO Box 1361, Tustin, CA, USA, 92781.
If you have an extra or unwanted copy of any official manuals or documentation on this operating system, please send them to: Milo, POB 1361, Tustin, CA 92781, USA. I have the following items: NONE.
Note: I am looking for a fan of Syllable who has the time to check this web site for completeness and accuracy regarding Syllable. Just check through the site about once a week or so and report back with any information (including the URL of the web page you are reporting).
Click here for our privacy policy.
---
Click here to skip over the summaries of individual operating systems.
---

This web site handcrafted on Macintosh

computers using Tom Bender's Tex-Edit Plus

and served using FreeBSD

.

---
†UNIX used as a generic term unless specifically used as a trademark (such as in the phrase "UNIX certified"). UNIX is a registered trademark in the United States and other countries, licensed exclusively through X/Open Company Ltd.
Names and logos of various OSs are trademarks of their respective owners.
Copyright © 2004 Milo
Last Updated: October 28, 2004
Created: September 12, 2004
Click here to skip over the summaries of individual operating systems.