sponsored by
| | | |
| --- | --- | --- |
| | | OSdata.com |
Books of the Week
The book of the week feature takes a look at one book from the hundreds mentioned throughout this web site.
The Mac Is Not a Typewriter:
A Style Manual for Creating Professional-Level Type on Your MacIntosh
by Robin Williams
The title is misleading, as this book was originally written when the desktop publishing industry was just taking off and Macs were the machines driving that new field. Just about everything in this book applies to any platform that supports proportional fonts, WYSIWYG word processing, and typographical characters.
The title of the book refers to habits acquired from the typewriter world that persist in the word processing world, such as using two spaces between sentences or using the inch and foot mark (" and ') instead of the single and double quotation marks (" and " and ' and '). The book then goes into common amateur mistakes with word processing features, such as the use of a circus of fonts.
Divided into small easily understood sections of a page or two, this book goes step by step through the common mistakes that apperar in amateur word processing, showing the little details that add up to a professional looking and polished presentation.
Just about anyone who uses a computer can benefit from this book. After just 10-15 minutes of light reading, all of your written documents (from the smallest memos to large scale works) will be much more polished and professional.
The Mac Is Not a Typewriter: A Style Manual for Creating Professional-Level Type on Your MacIntosh; by Robin Williams; Peachpit Press; November 1990; ISBN 0938151312; paperback; 72 pages; $7.96

Price listings are for courtesy purposes only and may be changed by the referenced businesses at any time without notice. If you want your book reviewed, please send a copy to: Milo, POB 1361, Tustin, CA 92781, USA.
OSdata.com is used in more than 300 colleges and universities around the world
Find out how to get similar high web traffic and search engine placement.
---
A web site on dozens of operating systems simply can't be maintained by one person. This is a cooperative effort. If you spot an error in fact, grammar, syntax, or spelling, or a broken link, or have additional information, commentary, or constructive criticism, please e-mail Milo. If you have any extra copies of docs, manuals, or other materials that can assist in accuracy and completeness, please send them to Milo, PO Box 1361, Tustin, CA, USA, 92781.
Click here for our privacy policy.
---
---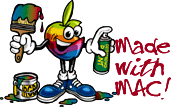 This web site handcrafted on Macintosh

computers using Tom Bender's Tex-Edit Plus

and served using FreeBSD

.

---
Names and logos of various OSs are trademarks of their respective owners.
Copyright © 1998 Milo
Last Updated: September 2, 1998
Created: September 1, 1998